Innovative Skincare Facial Technology

Rejuvenate your skin with the help of active ingredients that stimulate the blood flow for a clear and spot-free complexion.
Exfoliate + Oxygenate + Infuse with OxyGeneo facial – the innovative 3-in-1 skincare technology for exfoliation. It improves the texture of the skin by removing dead cells and enhances skin's oxygen levels by infusing the dermal layer with restorative and enriching nutrients.
The treatment is one of the best-voted facials in Calgary. It makes use of  OxyGeneo Technology that delivers immediately noticeable results with nourished, oxygenated and instantly younger-looking skin.
Book a consult for OxyGeneo Facial Treatments in Calgary.
Oxygeneo 3-in-1 Super Facial Can Be Used To:
Improve Skin Appearance
OxyGeneo exfoliation removes clogged pores and dead cells. The treatment also hydrates the skin, reduces the appearance of pores, improves your skin texture from within for a renewed complexion.
Reduce the Signs of Ageing
OxyGeneo treatments can significantly reduce the appearance of fine lines and wrinkles, crows' feet, and dark spots. Hydrated skin can reduce hyperpigmentation and irritation.
Treat Acne
OxyGeneo facials purifies problematic pores and removes oily buildup. Bacteria and toxins are cleansed to help your skin heal from acne.
Address Any Body Area
Treatments can be used for face & body to treat:
Facal conditions such as spots and wrinkles
Back acne and body pimples
Body pigmentation
Chapped skin
Any area where skin requires hydration
How OxyGeneo Facials Work
The facial delivers the exfoliation benefits of microdermabrasion and goes one step further by infusing the skin with revitalizing nutrients. This deep facial rejuvenation heals the skin from within in a process called oxygenation.
The Microneedling and facial treatment in Calgary is suitable for all skin types and is useful in reducing the appearance of hyperpigmentation and inflammation. The treatment also has anti-ageing results that are instantly noticeable after one session. Continued treatments over 4 to 6 weeks can achieve for optimal skin rejuvenation results.
OxyGeneo can complement Skin Bleaching and other facial services for unparalleled results. Contact REFIRM to tailor a custom rejuvenation plan for you.
Exfoliate
An OxyGeneo  facial treatment begins by exfoliating the upper layer of the skin to eliminate dead cells. Skin is smoothened for a renewed and brighter complexion.
Infuse
A mixture of nutrient-rich and active ingredients is infused into the skin using innovative OxyGeneo Technology. The mixture features anti-ageing benefits that improves the texture of your skin from within.
Oxygenate
OxyGeneo Technology produces carbon dioxide bubbles that gently burst beneath skin's surface. This induces oxygen-rich blood to the area for improved skin metabolism as well as optimal absorption of the infused ingredients.
Exfoliate + Oxygenate + Infuse
Discover why OxyGeno is the #1 facial in Canada:
Immediately improved skin texture & tone
Long lasting results
Suitable for all skin types
No pain, discomfort or downtime
Treat Specific Skin Conditions with OxyGeneo
Nourishing Capsugen formulas are available for specific skin concerns.
NeoBright Formula
NeoBright reduces skin pigmentation and sun damage while lightening the skins complexion.
Azelaic Acid = Even Pigmentation
Azelaic Acid is a well-known agent that is used to treat skin hyper pigmentation conditions that decreases the activity of pigment-producing cells.
Kojic Acid = Skin Lightening
Kojic Acid is a naturally occurring agent produced by fungi which inhibits Melanin production. When combined with Azelaic acid, there is a synergistic lightening and bleaching effect.
Retinol = Anti-Aging
A derivative of Vitamin A, Retinol has been clinically proven to increase collagen and skin cell production. It is also known as one of the best anti-aging solutions.
NeoRevive Formula
NeoRevive smooths the appearance of fine lines and wrinkles, and revitalizes dull complexion.
Hyaluronic acid = Wrinkle Reduction
Naturally produced by the body and responsible for fluid retention and skin moisturizing, as we age, the body's capacity to produce Hyaluronic Acid decreases. This results in thinner, dryer and wrinkled skin. By infusing Hyaluronic acid, the skin is able to regain lost moisture and volume, thereby reducing wrinkles.
Peptides = Skin Repair
Peptides are small protein fragments which strengthen the skin's ability to retain fluids. Combined with Hyaluronic Acid, a synergetic effect of dermal repair is created.
Retinol = Collegen Renewal
A derivative of vitamin A, Retinol has been clinically provide to increase collagen and skin cell production. It is known as one of the best anti-wrinkle solutions.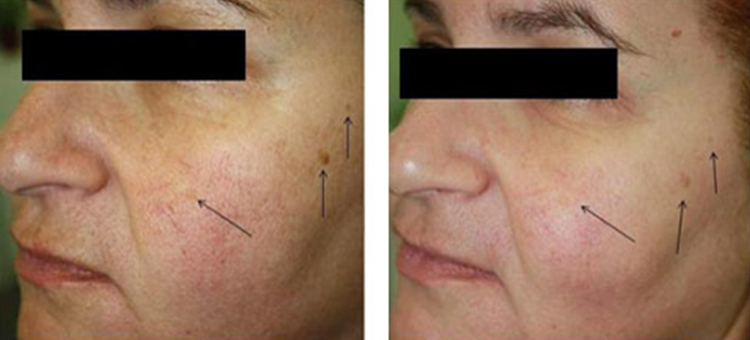 Individual results may vary
Marilyn Denis loves OxyGeneo
Find out why OxyGeneo isn't just the best facial on the market – it's also the most hygienic.
CityTV: Tracy Moore from CityLine features the OxyGeneo
Cityline Interviews Dr. Wong of Glow Medi Spa about the 3 in 1 Super Facial OxyGeneo
CTV "Steele On Your Side"
Lynda Steele of CTV's Steele On Your Side explores the OxyGeneo 3-in-1 Super Facial at Paris Cliniqe in Vancouver BC.