Photorejuvenation & Photofacial  with IPL and BBL Technologies
Every day our skin fights toxins, pollutants, intense sun rays, and our own genetics. But we have some good news – now you can help your skin fight back with the latest Photorejuvenation treatments.
REFIRM Skincare Centre offers two types of at Photorejuvenation technologies: Lumecca Intense Pulsed Light (IPL) and Forever Young BroadBand Light (BBL). These lser treatments targets vascular and skin pigment issues such as brown spots, sun damage, red spots and rosacea. Bright light passes through the top layer of skin and draws out pigment producing cells to dispersing uneven pigment. The result is a clear smooth complexion.
Vanish blemishes with IPL & BBL Photorejuvenation. Book a consult at our Calgary Skincare Clinic.
Effective Vascular & Blemish Solutions in Calgary
Treat Redness & Lesions Without Surgery
Photofacials can treat a variety of vascular lesions without surgery or downtime. You can resume your daily activities right away.
Advanced Technology
Address pigmentation, blemishes and skin irregularities with improve efficacy. Powerful IPL lasers can deliver up to 3X more energy.
Faster Treatments
Photorejuvenation achieves results in fewer sessions. See noticeable improvements after only one or two treatments, 2-3x quicker than standard treatments methods in Calgary.
Calgary Photorejuvenation Solutions
Forever Young BBL
Forever Young BBL uses multiple passes of BroadBand Light to address the signs of aging on all levels of the skin:
Base pass: addresses the overall appearance of the skin.
Corrective vascular pass: addresses any small visible vessels, telangiectasias or flushing.
Corrective pigment pass: corrects pigmented lesions and other pigmentation issues.
Optional SkinTyte pass: provides deep bulk heating to stimulate the tissue at a deep level.
Lumecca IPL
Lumecca is a powerful intense pulsed light (IPL) that delivers up to 3X more energy to improve efficacy for vascular and pigmented lesions. It is optimized to treat a variety of lesions with fewer sessions.
IPL energy target red and brown pigments in the skin. These pigments absorb the light and are destroyed while surrounding tissue is unaffected.
Photorejuvenation Can treat:
Vascular Lesions
IPL and BBL photorejuvenation can reduce vascular lesions, including:
Port wine stains (birthmarks)
Spider veins (telangiectasias) on the face or torso
Rosacea and erythema of rosacea
Angiomas
Pikiloderma of Civatte associated with sun damage
Venous malformations and other vascular anomalies
Pigmentation
Calgary's abundant sun light can lead to sun spots and other skin tone issues. Use the power of photorejuvenation to effectively treat benign pigmented such as:
Epidermal lesions
Skin colour alterations (Dyschromia)
Freckles (Ephelides)
Other skin pigmentation issues
Many Areas of the Body
Most areas of the body can be treated with the best results in the:
Pigmented spots may reappear after the treatment but vanish after a few weeks leaving a clear, even-toned, fair complexion. An expert REFIRM clinician will provide you with post-treatment care instructions for Calgary's unique environment.
How Photorejuvenation Works
Photorejuvenation skin treatments use light energy to target vascular and pigmented lesions. When the IPL laser is focused on the skin, energy is absorbed by pigmented cells and converted into heat energy. Cells with undesired pigmentation are heated and destroyed.
Collagen is the protein responsible for nourishing your skin. When your body lacks collagen, the walls in your veins can weaken leaving you susceptible to rosacea and vascular lesions. Low collagen can increase your vulnerability to sun damage and redness. Vascular issues can be addressed by using IPL energy to stimulate new collagen needed for strengthened veins and improved dermal support.
Safe, Comfortable and Effective
Photorejuvenation & photofacial treatments are safe and comfortable. The applicator features a cooling tip that keeps surrounding skin unaffected. Laser energy targets dark spots including hair and may eliminate follicles as part of the treatment. Your skin may feel warm and your face may appear red for 30 to 60 minutes after the procedure. The effects are temporary and patients don't experience discomfort during, or after the treatment.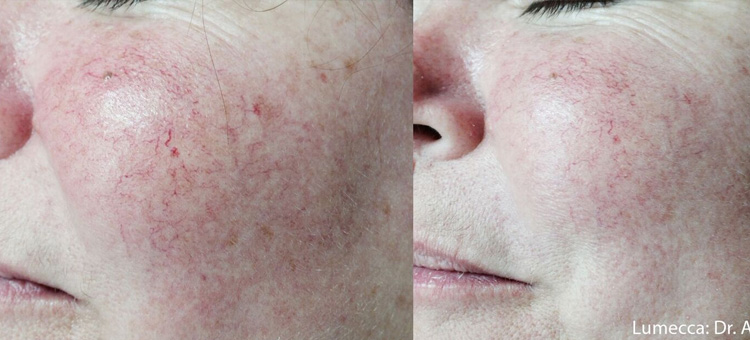 Individual results may vary
Transform your skin with photorejuvenation & photofacials. Contact REFIRM's Calgary Clinic at 403-466-3476.