Microchanneling Treatments for Skin Renewal

Enhance the health and appearance of your skin with this premium natural cellular regeneration treatment in Calgary!
Skin changes with age, both visibly and invisibly. Every day, sun damage, internal inflammation, chemicals, and even gravity work against the youthful vitality of your skin. As we get older, we lose regenerative stem cells to repair this constant damage.
ProCell Microchanneling Facial is an effective and non-invasive skin rejuvenation procedure that renews skin. The procedure uses peptides, growth factors, and stem cytokines to kickstart your skin's healing process.
Book a consult for ProCell Microchanneling Facial Treatments in Calgary.
Stimulate Your Skin's Natural Renewal
The treatment activates your body's natural healing process and improves your skin's health and appearance. Benefits for our patients in Calgary include:
How ProCell Microchanneling Works
A Procell treatment involves creating thousands of microchannels where rejuveanting serum is delivered deep into skin layers. The serum is made from advanced stem cell technology containing peptides, growth factors, and stem cytokines to kickstart your skin's renewal process.
These channels activate your body's natural healing and promotes formation of new collagen and elastin. The proteins are essential for improving surface texture, skin appearance and support structure.
Benefits of Calgary Microchanneling
Long Lasting
You can benefit from the effects of the treatment for years depending on your age, lifestyle, and skincare habits. Our expert clinicians will advise you to the best care procedures for Calgary's environment.
Quick Treatment Sessions
Light anti-ageing results can be seen with as little as 1 or 2 sessions. Deep scarring and wrinkles elimination can be achieved in 4 to 6 quick treatments every 3 weeks.
Micro Treatment evolved
ProCell Microchanneling Facial is the next generation of microneedling that uses a 'stamping technique' for deeper product penetration without causing undue trauma to the skin.
ProCell Serums
Three types of ProCell serums are applied and tailored to your skin's health and expected results.
Cellular Renewal Serum
This serum fights the appearance of fine lines and sun damage. It restores your skin's texture and firmness using various growth factors.
Healing Accelerator Serum
This serum addresses skin dryness and large pores using a medical-grade moisturizer. Powerful antioxidants decrease inflammation and pore size.
ProCell Microchanneling Results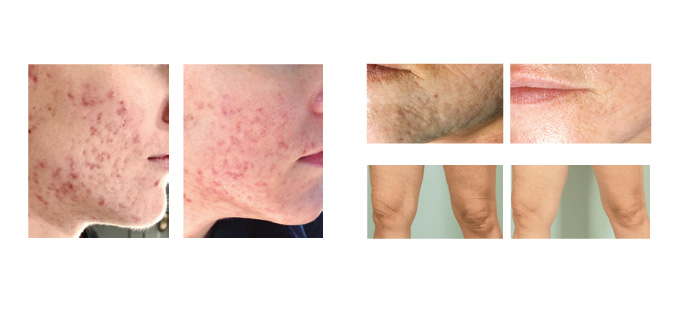 Individual results may vary
Stimulate your skin's natural healing with ProCell Microchannelling treatments. Contact REFIRM Skincare Clinic in Calgary at 403-466-3476.