Chemical Peels for Renewed Skin
Stimulate collagen growth, slough away dead skin cells, and make your skin soft and smooth like never before with REFIRM chemical peel treatment in Calgary.
Chemical peels go a long way to undo signs of ageing and sun damage in your skin. Alumier chemical peels are designed to improve your skin's appearance & firmness, smooth texture and reduce wrinkles. Dead skin is peeled away to reduce pore size, improve acne-prone skin, and even out skin tone to give you a healthy and glowing complexion.
Refresh your skin with Chemical Peels. Book a consult at our Calgary Skincare Clinic.
Calgary Skincare with Chemical Peels
Alumier chemical peel treatment are suitable for a variety of conditions. Treatments can:
Chemical peel renew your skin in a variety of ways. Treatments achieve results by:
Removing damaged cells for clearer complexion
Promoting production of collagen for smooth texture
Stimulating new, healthy cell growth
Hydrate skin for even appearance
Chemical peel treatment can be performed on: the face, neck, back and hands.
Chemical peel treatment at REFIRM can be used for Calgarians of all skin types. Fair-skinned and light-haired patients are generally better candidates, however you may also have good results if you have darker skin. Request a consult to see if chemical peels are right for you.
Chemical Peel treatment involves applying a chemical solution to the skin with a gauze or cotton-tipped applicator. The solution is allowed to penetrate the dermis and the epidermis. After the ingredients have infused through the skin, a cold compress is used to soothe the treated area.
Removal of dead skin cells reveals plumper and more even-toned skin for an instantly bright complexion and radiant skin.
The skin may be tender and sensitive for 3 to 5 days after treatment but subsides as new skin starts to emerge. An expert REFIRM clinician will offer you with post-treatment care instructions.
Chemical peels are customized for optimal results based on your skincare needs and Calgary's unique climate. The pH balance of each customized treatment is set at an optimal level to ensure maximum penetration, quality experience, and comfort of the patients.
There are three common types of chemical peels: superficial, medium, and deep. Each type has a unique combination of ingredients and affect the depth of treatment. Superficial chemical peels exfoliate several levels of the epidermis. Medium chemical peel treats the papillary dermis. Deep chemical peel infuses the mid-reticular dermis for a more substantial effects.
Benefits of Alumier Chemical Peels
The next generation of clinical exfoliation, Alumier chemical peels, use high-performing ingredients to give you clear and beautiful skin. Some common ingredients used in the chemical solution are alpha hydroxy acid, lactic acid, glycolic acid, retinol, malic acid, salicylic acid, and tartaric acid. Chemical Peels suit all skin profiles to produce exceptional results that reduce the effects of Calgary's challenging environment.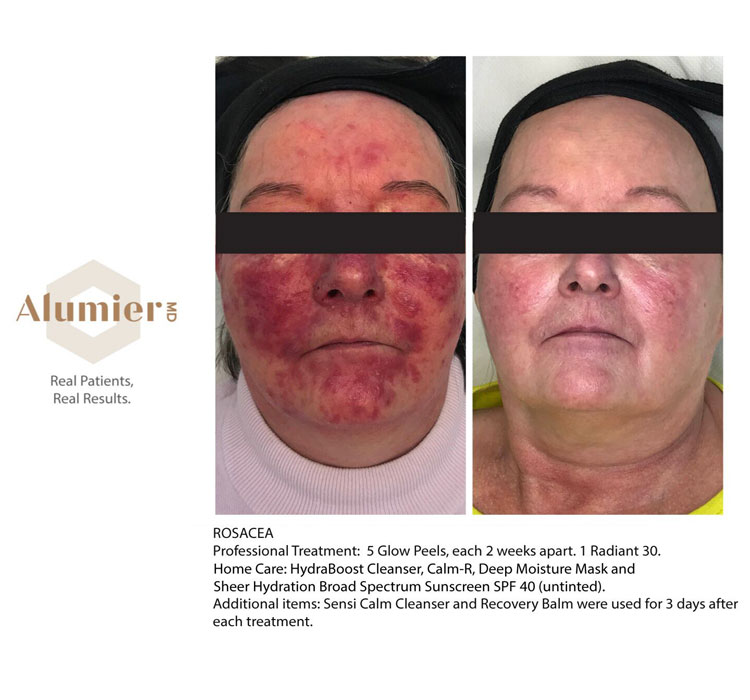 Individual results may vary
Peel away old skin and renew your appearance with Chemical Peels. Contact REFIRM's Calgary Clinic at 403-466-3476.